30 Easy Christmas Cookie Recipes With Few Ingredients
These 30 Easy Christmas Cookie Recipes are made with simple ingredients and fewer ingredients than a lot of the homemade cookies on the internet today. They are perfect for the holiday season and great to bring to any Christmas celebration.
A collection of easy Christmas cookie recipes with few ingredients that make for easier baking! These easy cookie recipes are perfect for cookie platters for that special time of year.
When creating this list of holiday cookie recipes I wanted to make sure they all had basic ingredients that most of us already have on hand. This list had anything from gingerbread cookies to easy sugar cookies to shortbread cookies.
This list is sure to get you into the holiday spirit and I can guarantee that many of these will be added to your favorite recipes you make year after year.
INGREDIENTS YOU WILL NEED FOR SOME OF THESE EASY CHRISTMAS COOKIE RECIPES WITH FEW INGREDIENTS
Butter
Brown sugar
Cream cheese
Peanut butter
Egg yolks and egg whites
Corn flakes
Rice krispies
Vanilla extract
Maple syrup or honey
Coconut oil
M&M's
Lemon juice
Lemon zest
These Gluten Free Ginger Molasses Cookies are crispy on the outside, and soft and chewy on the inside. They're festive, full of warming spices, and the best gluten free holiday cookies to bring to any Christmas party!
For a nostalgic holiday treat, try my Double Chocolate Peppermint Cookies studded with dark chocolate chips and crushed candy canes. These healthy protein cookies are the perfect gluten-free Christmas cookie recipe.
This gluten free peanut butter cookie recipe takes less than 20 minutes to make, and only requires 10 ingredients! These easy peanut butter cookies are chewy, soft, and taste like a regular "unhealthy" peanut butter cookie!
These Heart Shaped Jam Thumbprint Cookies are made with a simple sugar cookie dough and filled with your favourite type of jam. These cookies are perfect for the holiday season, valentine's day, or for any special occasion.
Rolled in powdered sugar, these gluten free chocolate crinkle cookies are slightly crisp on the outside and soft and chewy on the inside. This is like a brownie dough consistency and flavour shaped like a gluten free Christmas cookies!
This Oatmeal Protein Cookies recipe is loaded with nuts, seeds, gluten free oats and whole grains for a cookie that packs some serious health benefits. These are the best healthy protein cookies …ever!
Fudgy middles, chewy edges, & intense chocolate flavour in one easy, homemade cookie recipe. You never have to choose between a brownie and a cookie again, instead give my Chocolate Brownie Cookies a whirl. One of the best cookie recipes around!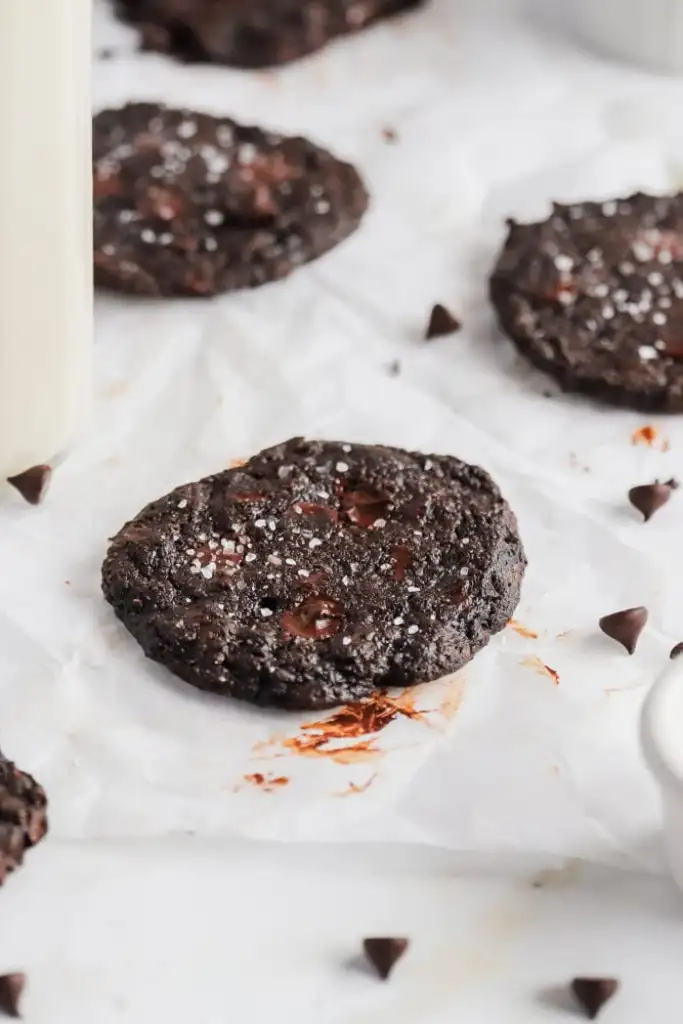 These Gluten Free Dairy Free Chocolate Chip Cookies are an easy recipe that yields healthy, soft and chewy cookies packed with melty chocolate chips! These dairy and egg free cookies are made with almond flour and gluten free oat flour to keep them gluten free, and vegan butter, almond milk, and dairy free chocolate chips to keep them a vegan cookie recipe!
These healthy gluten-free, vegan banana bread cookies are soft, chewy and so easy! They make the perfect snack, breakfast or healthy dessert! Loaded with peanut butter and chocolate chips, these almond flour banana cookies are a must have recipe!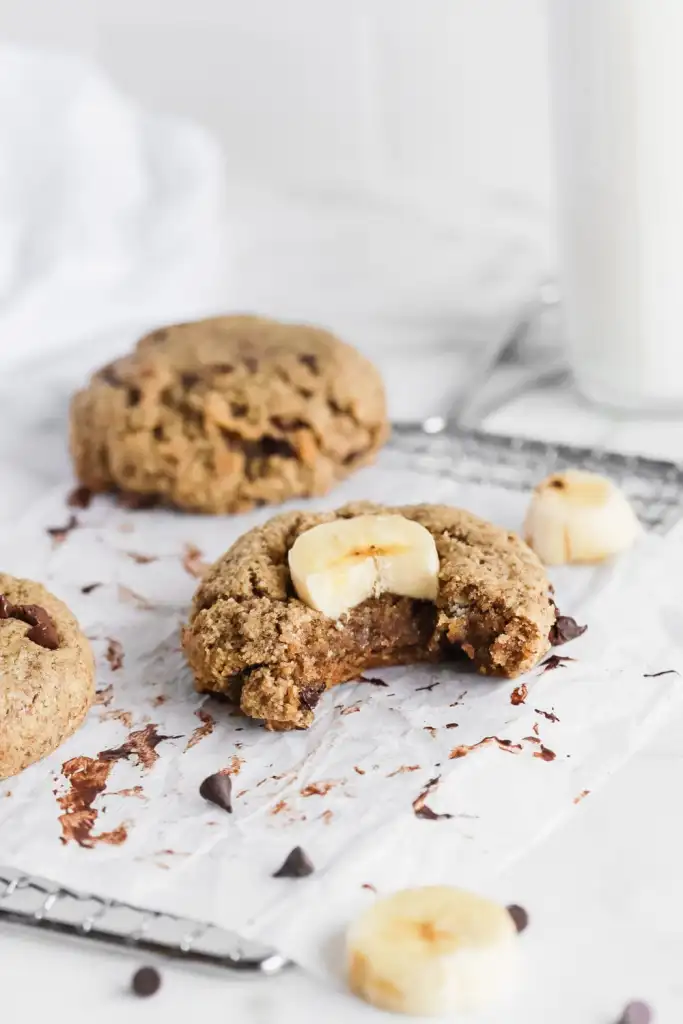 This is the best soft and chewy chocolate chip cookie recipe ever with super simple ingredients, and no chilling time! Such an easy homemade recipe, with soft gooey centers, these will turn out perfectly every time!
With only a few simple ingredients you can recreate the classic sugar cookie into a much healthier homemade version! These gluten free sugar cookies are sugar free, gluten free, and taste just as good as your traditional sugar cookie recipe!
These Christmas Chocolate Peppermint Truffles are one of my favorite Christmas desserts. This is the perfect recipe to bring to a holiday party or serve as a festive treat on Christmas day.
These classic Butterscotch Peanut Butter Butterscotch Marshmallow Squares isn't technically one of the minimal ingredient cookie recipes. It's creamy peanut butter and butterscotch chips mixed in with rainbow coloured marshmallows are truly a match made in heaven!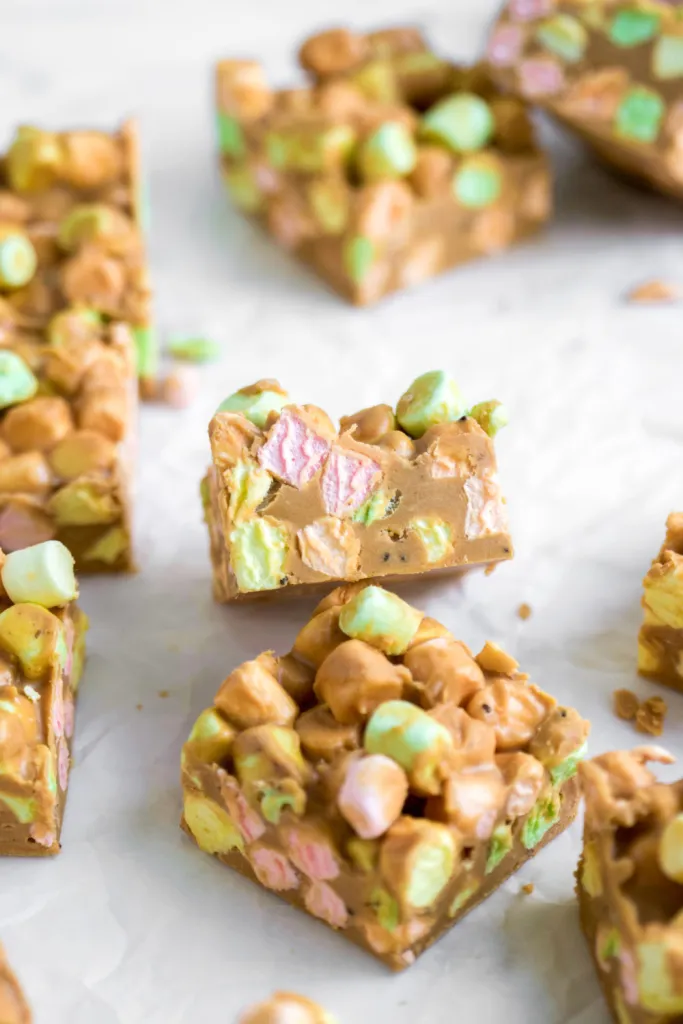 Melted Snowman Cookies are a fun and easy way to get the kids baking with you. You only need 6 ingredients to make these adorable and festive cookies.
These chocolate peppermint shortbread cookies are dipped in white chocolate and sprinkled with crushed peppermint! The perfect Christmas cookie!
The secret to the absolute best cranberry orange cookies is soaking the dried cranberries in fresh orange juice! Plus, a fresh orange glaze makes these cookies so special!
These vegan snowball cookies are tasty, melt-in-your-mouth treats made with buttery pecans. They are easy to make with just 6 ingredients!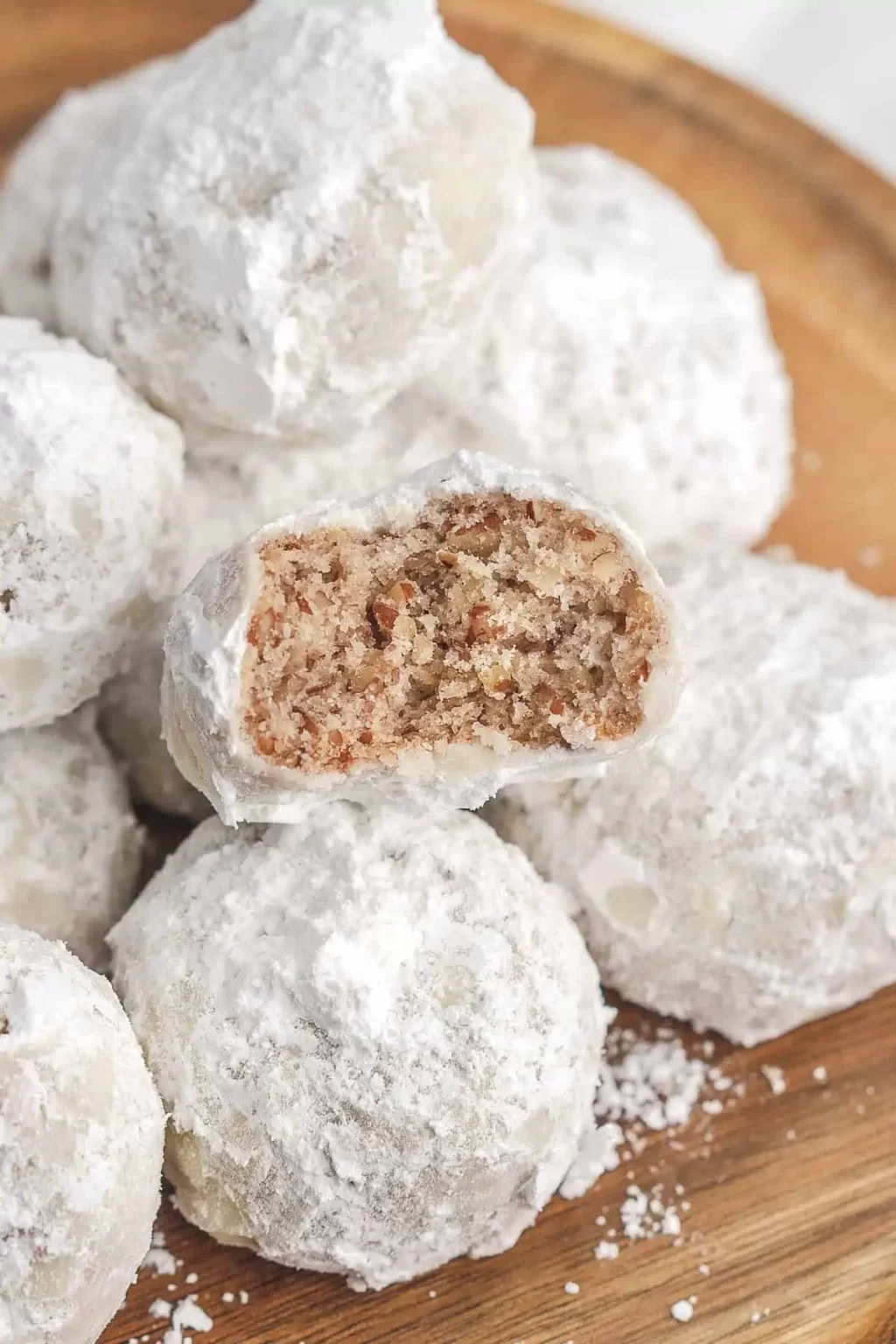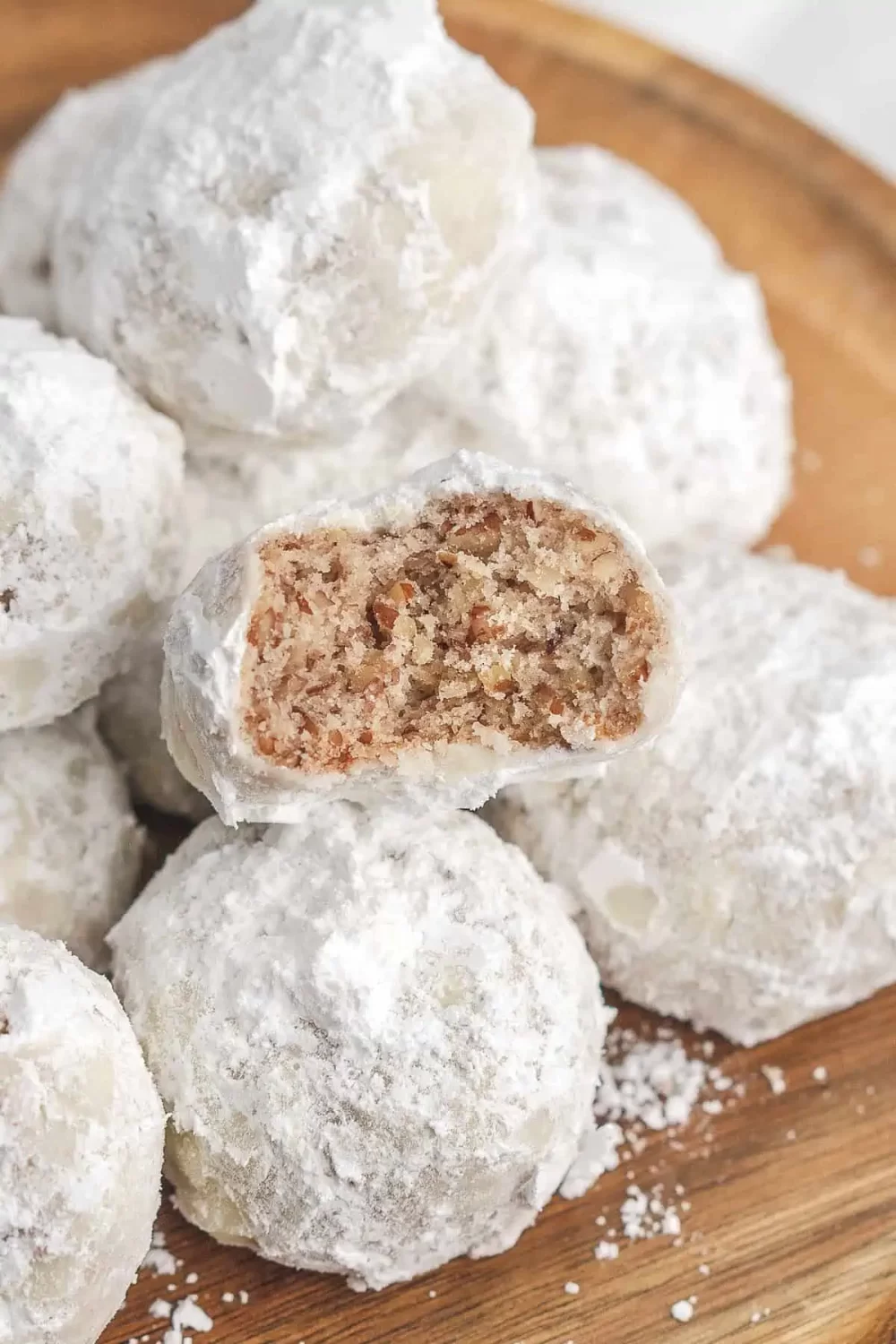 You can make flourless peanut butter blossoms, that's right, without any flour at all! These chewy cookies are so easy to make with only a handful of ingredients. Everyone loves this classic Holiday cookie with a Hershey's Kiss on top.
Easy Cake Mix Cookies uses 3 simple ingredients to create the perfect holiday sugar cookie. These make a great base for adding other things to them like sprinkles, icing or candy.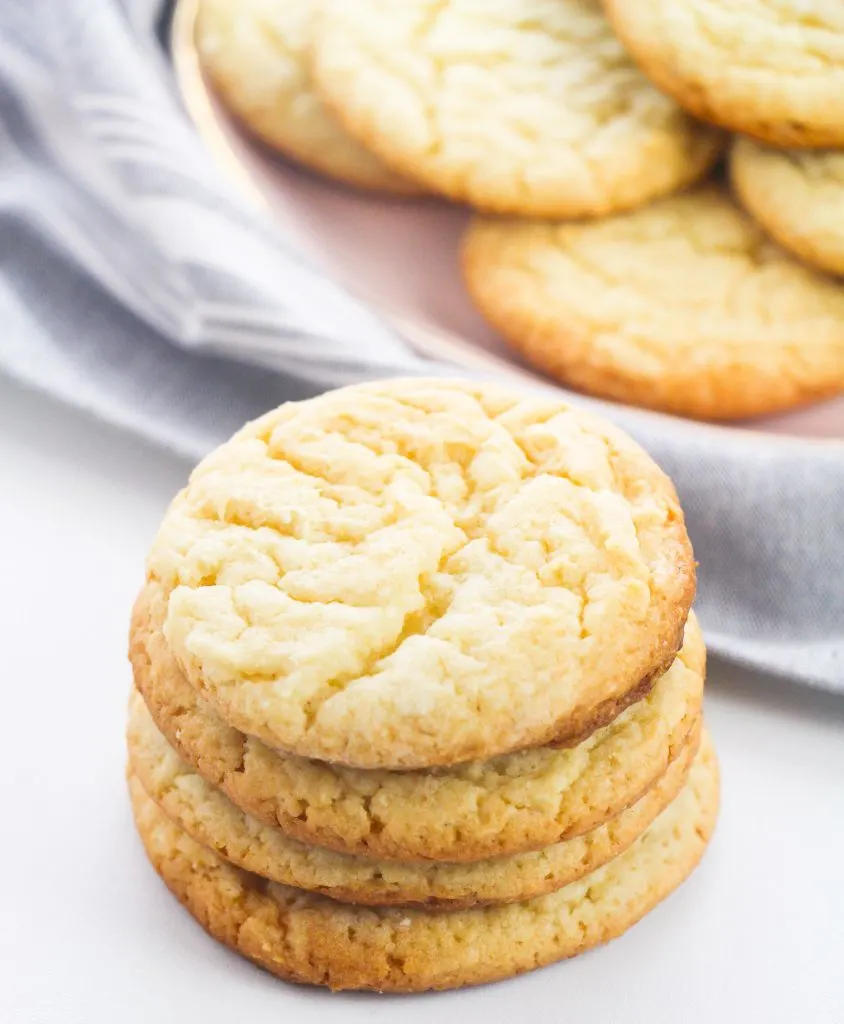 These cookies combine two of my favorite flavours, peppermint and chocolate. And the best part is that they are very quick and easy to make!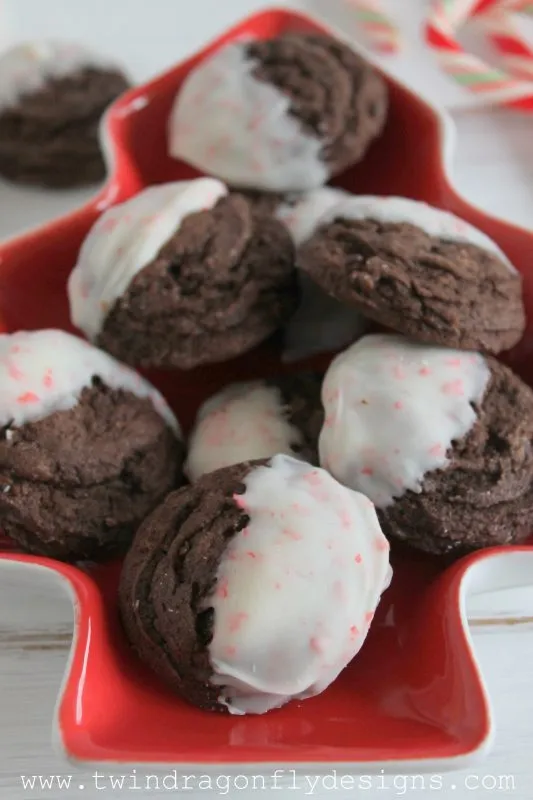 A perfect sugar cookie recipe! They are easy to make with basic ingredients, bake up with crisp, defined edges and include a simple icing that dries firm!
These vegan gingerbread cookies are soft, chewy and so easy to make. Full of warming spices and a hint of orange zest.
One of my favorite Christmas cookie recipes as it's a very basic 3 ingredient recipe that can be easily varied with other additions such as cinnamon and vanilla
Soft, fudgy, and rich, these easy cookies are the perfect holiday, winter, or Christmas cookie. These are such delicious cookies!
These Rudolph cookies are made with a cake mix, making them so easy and super fun to decorate! Perfect for a cookie exchange party.
These soft, chewy Grinch Sugar Cookies are colored green for the holidays, rolled in sugar, and decorated with a red heart. They are so simple to make; no chilling, rolling, or cutting required!
These easy to make Christmas Kiss Cookies are sure to be a hit! These soft chocolate cookies are covered with sprinkles and topped with a Hershey's Kiss!
Christmas Lights Cookies with a small batch of royal icing and mini M&Ms as Christmas Lights.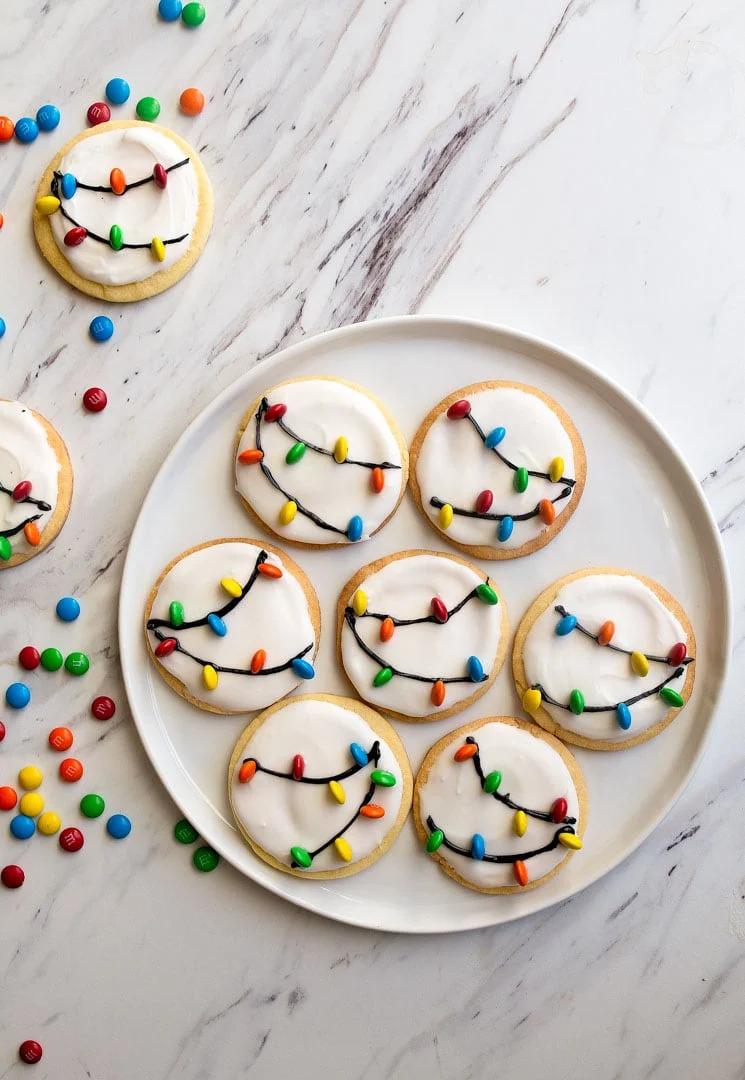 Deceptively easy, these fun Christmas tree sugar cookies are perfect for unexpected festive visitors or for gifting.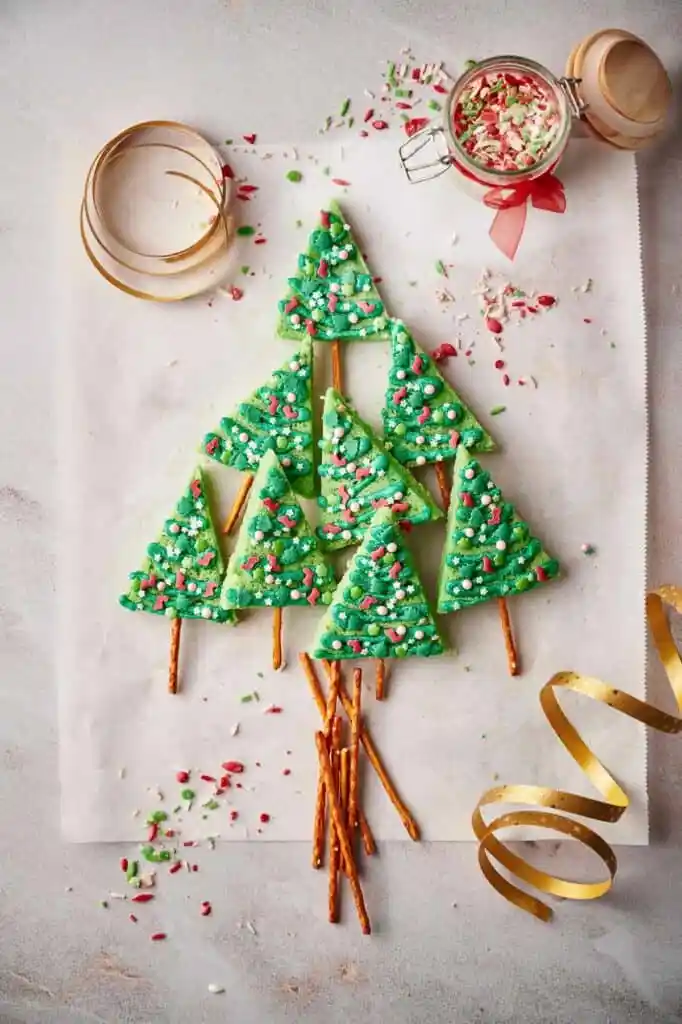 No bake Nutella cookies are chocolatey, full of hazelnut flavor, ready in 15 minutes and gluten free! The perfect holiday cookie for all occasions!
These red velvet cookies are so fun and festive for Christmas! This one bowl, no chill recipe is quick, easy and always a big hit.
30 Easy Christmas Cookie Recipes With Few Ingredients
These 30 Easy Christmas Cookie Recipes are made with simple ingredients and fewer ingredients than a lot of the homemade cookies on the internet today. They are perfect for the holiday season and great to bring to any Christmas celebration.

IF YOU TRIED THESE EASY CHRISTMAS COOKIE RECIPES WITH FEW INGREDIENTS PLEASE LEAVE A COMMENT IN THE COMMENT SECTION AND STAR RATING. I LOOK FORWARD TO SEEING YOUR CREATIONS! YOU CAN PIN THIS RECIPE ON PINTEREST OR SHARE ON INSTAGRAM BY TAGGING @basicswithbails and #basicswithbails
About Bailey
I love to bake, cook, exercise, and document all of the above. Nutrition is not low fat. It is not low calorie. It's not feeling deprived or being hungry all the time. It's nourishing your body with real, whole foods so that you are consistently satisfied and energized to live your life to the fullest! Read more…