15 Protein Overnight Oats Recipes (Different Flavors)
These 15 High Protein Overnight Oats Recipes are each the perfect easy breakfast recipe that double as a great source of protein. They are made in individual portions in a small container, glass jar, or airtight container and are a great addition to a busy morning routine.
Overnight oats can be such a great way to get a large chunk of your protein intake in in the morning. However, some individuals hate the thought of them because of their texture.
For best results in all the healthy recipes listed below, I have made sure they are not mushy. They contain lots of old fashioned oats, protein powder, and just the right amount of milk.
The best part is you can make each recipe vegan if you choose by substituting certain ingredients. They are a great option to start your morning off on the right foot.
I do recommend purchasing a high quality protein powder as the oats really do take on that flavor. Any type of protein powder will work, however if you're looking for something that tastes amazing and has no added sugar you need to try out PEScience protein powder flavours.
These are such easy recipes, with at least 30 grams of protein per serving, and are perfect to meal prep and grab and go the next morning.
If you like these creamy overnight oats you should also try my 11 Easy High Protein Baked Oats Recipes (Gluten Free), my Banana Bread Stovetop Oats and my Brownie Stovetop Oats.
INGREDIENTS YOU WILL NEED FOR SOME OF THESE OAT RECIPES
You will need the following ingredients listed below to make these healthy overnight oats recipes (the exact measurements and full recipe are in each individual recipe card at the bottom of each post):
Gluten-free oats – not necessary to use gluten-free unless you have celiac disease, but I do recommend using quick oats, old-fashioned oats, or rolled oats and avoiding steel cut oats.
Chia seeds – for some healthy fats.
Non-dairy milk – anything like unsweetened almond milk, coconut milk, oat milk, hemp milk, soy milk, cashew milk or regular milk all work.
Brown sugar – pure maple syrup, honey or apple sauce for some sweetness.
Cream cheese
Peanut butter – almond butter, cashew butter, sunflower seed butter, or your favorite nut butter of choice will all work.
Whey protein – vanilla protein powder, chocolate protein powder, or vegan protein powder. Adding a scoop of protein powder to these recipes adds lots of extra protein.
Greek yogurt – a healthy protein source that is also used as the icing. Non-fat greek yogurt can also be used for a lower calorie option, or vegan yogurt for vegan option.
Vanilla extract – and almond extract.
Lemon juice
Lemon zest
Coconut flakes
Fresh berries
Dash of cinnamon
Chocolate chips
Cocoa powder
Fresh fruit
Cottage cheese
These Biscoff overnight oats are the ultimate make ahead breakfast! Made with gluten free oats, chia seeds, and protein powder, they are full of simple ingredients to keep you feeling good and satisfied!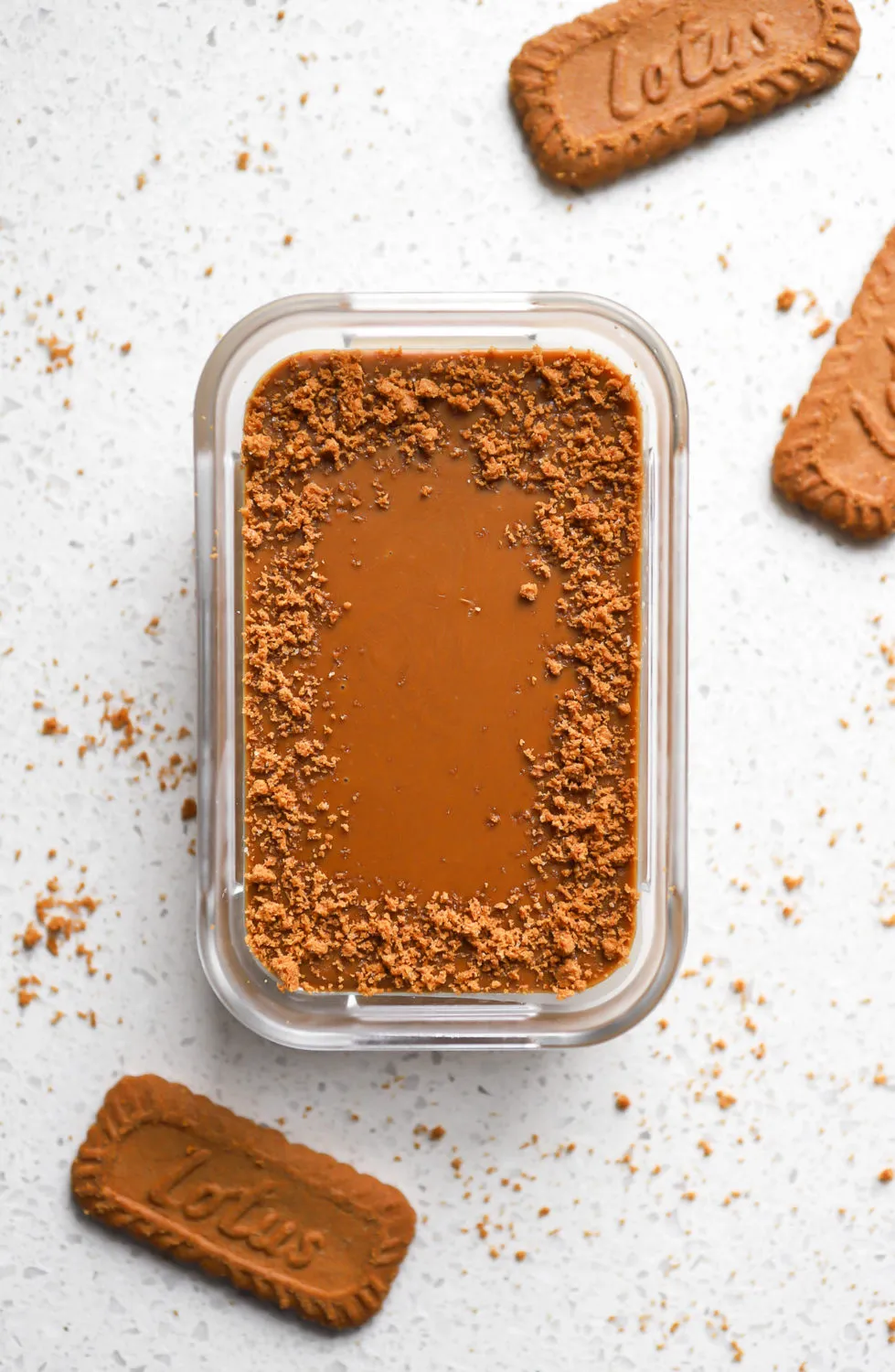 These Blueberry Cheesecake Protein Overnight Oats are sweet, creamy and loaded with protein. The perfect overnight oatmeal recipe with vanilla protein powder to kickstart your morning in the best way!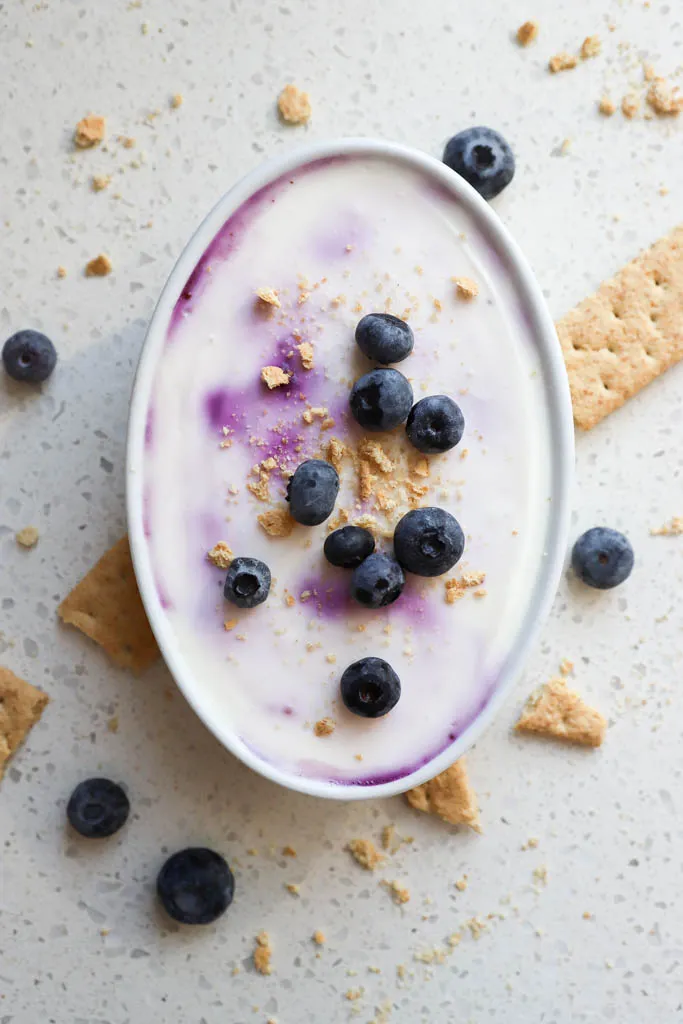 This tiramisu oatmeal is the perfect high protein oatmeal recipe with simple ingredients. Packed with heart-healthy oats, unsweetened Greek yogurt, and nutrient-dense chia seeds, these chocolate and coffee flavoured overnight oats are the best way to start your busy mornings.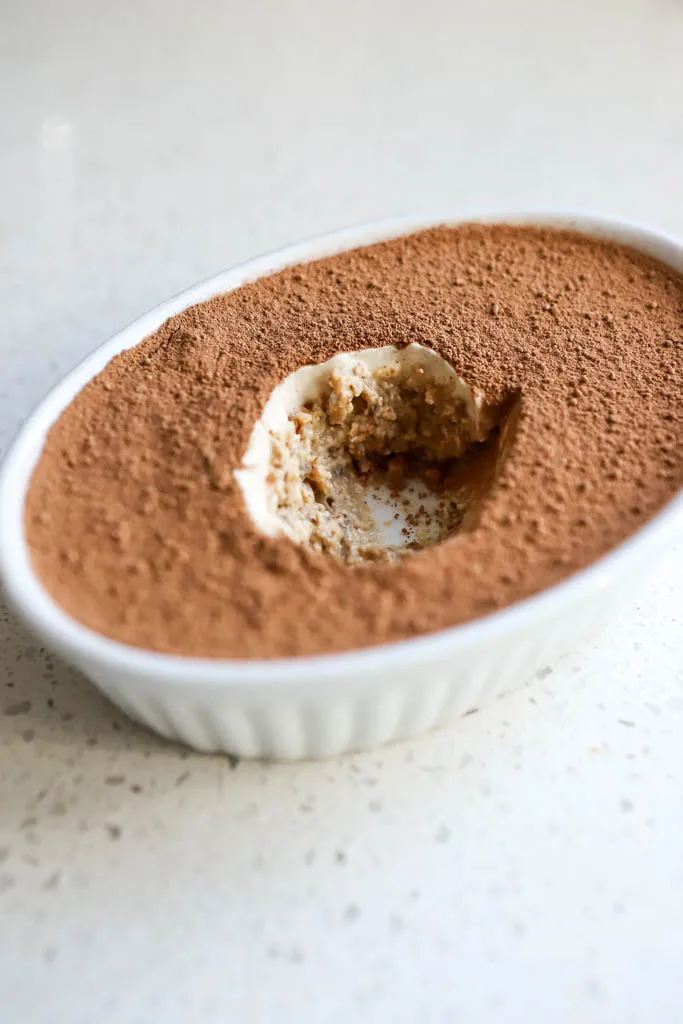 Peanut Butter and Jam Overnight Oats
These peanut butter and jam overnight oats are a healthy and protein packed breakfast recipe. They are gluten free, can easily be made vegan, and are so simple to make!
It takes just minutes to assemble this protein overnight oats recipe, making it simple for meal-prepped grab-and-go breakfasts. These overnight protein oats are inspired by classic cinnamon bun flavours, but with so many incredibly nourishing ingredients to get your mornings started off right!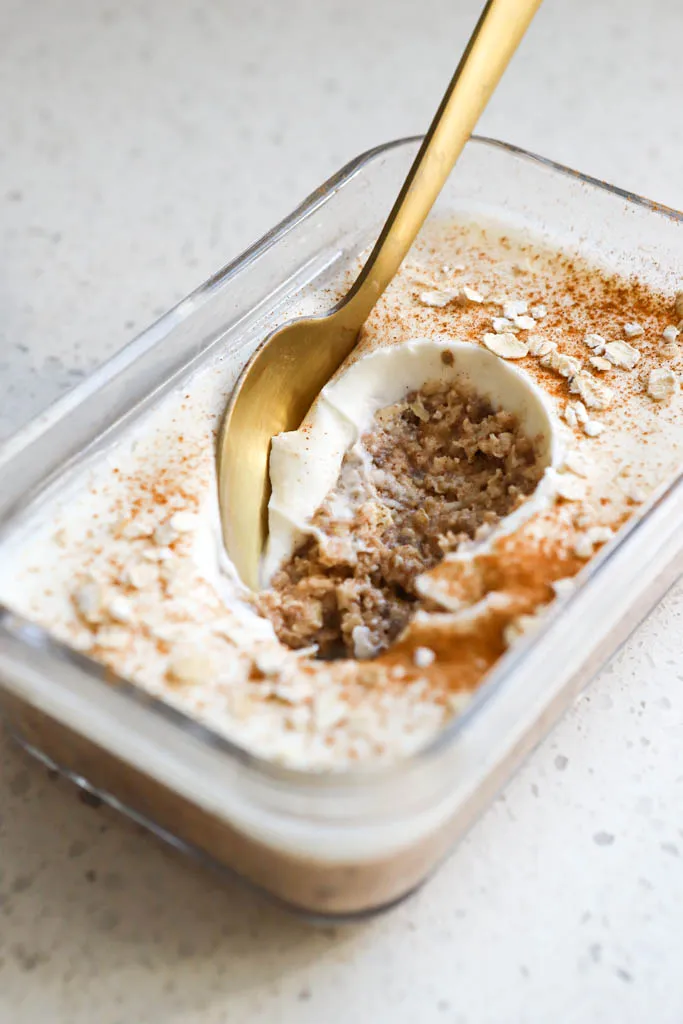 Overnight oats that taste like a slice of no bake pumpkin cheesecake! Pumpkin puree and pumpkin pie spice give these pumpkin cheesecake overnight oats that cozy fall flavor we love while almond milk makes them nice and creamy.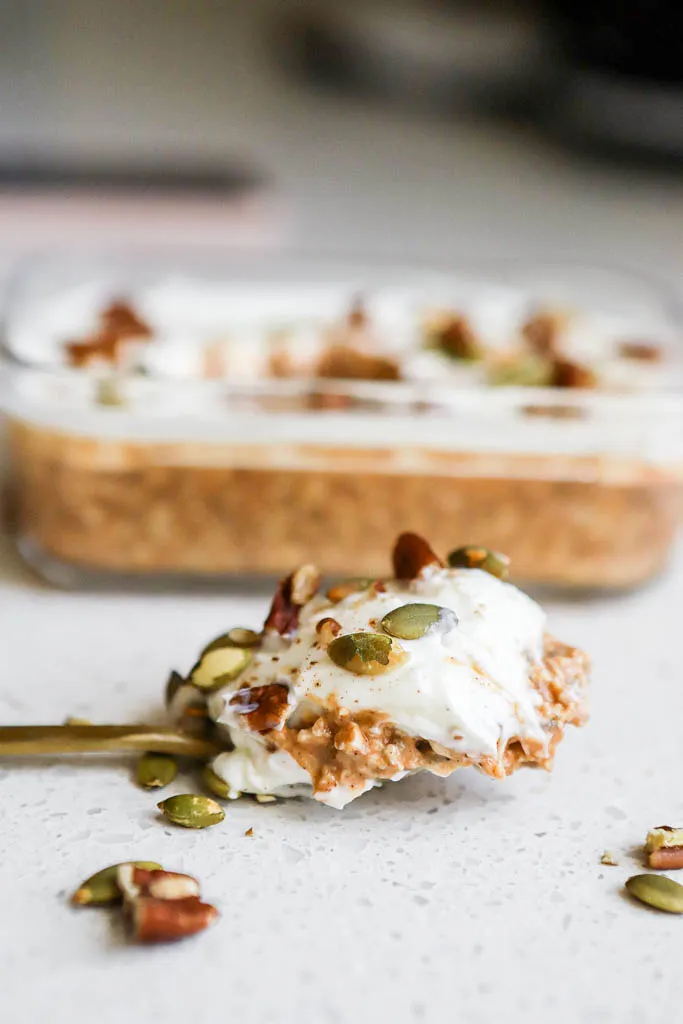 Chocolate Peanut Butter Overnight Oats are an easy make-ahead breakfast you'll make all the time. A healthy sweet breakfast that tastes just like a snickers bar but is gluten-free, vegan, and can be made in just 5 minutes!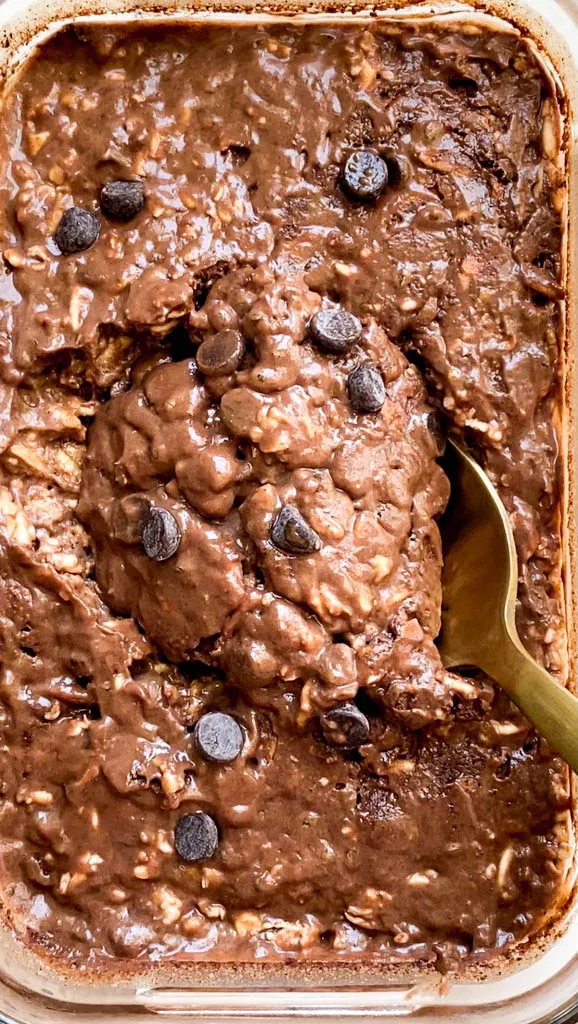 This Birthday Cake Overnight Oats recipe proves that you truly can have your cake and eat it too. These high-protein overnight oats are a fun and colorful way to start your day on a festive note – even on the 364 days of the year when it's not your birthday!

These dreamy Peaches and Cream Overnight Oats are the ultimate gluten-free and protein-packed breakfast or snack! They are made with wholesome ingredients, like rolled oats, Greek yogurt, protein powder and healthy chia seeds and come together in just minutes.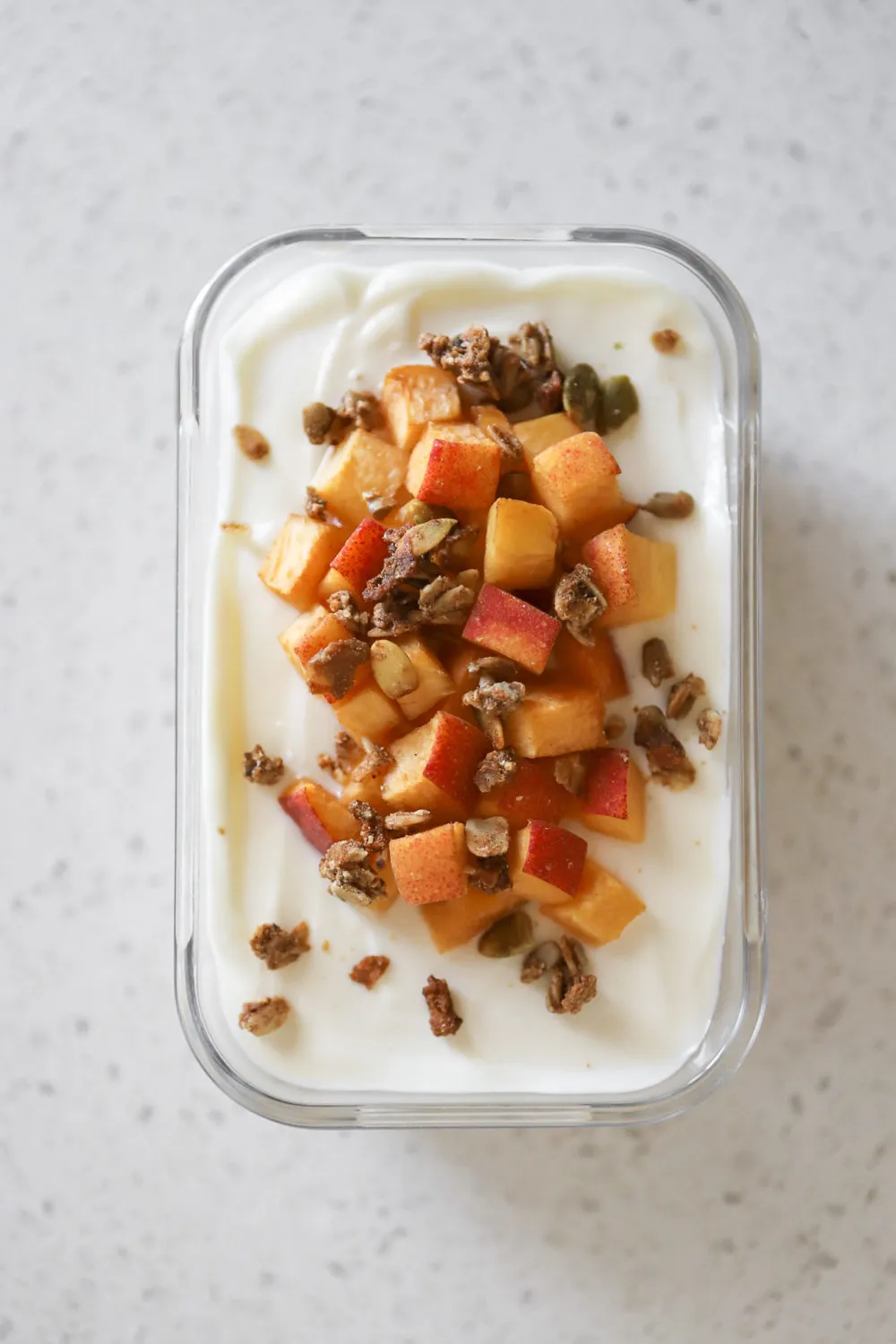 Lovers of key lime pie and healthy lime recipes will love these gluten-free Key Lime Pie Overnight Oats! A high-protein oatmeal recipe that is easy to make with that perfect balance of sweet and tangy.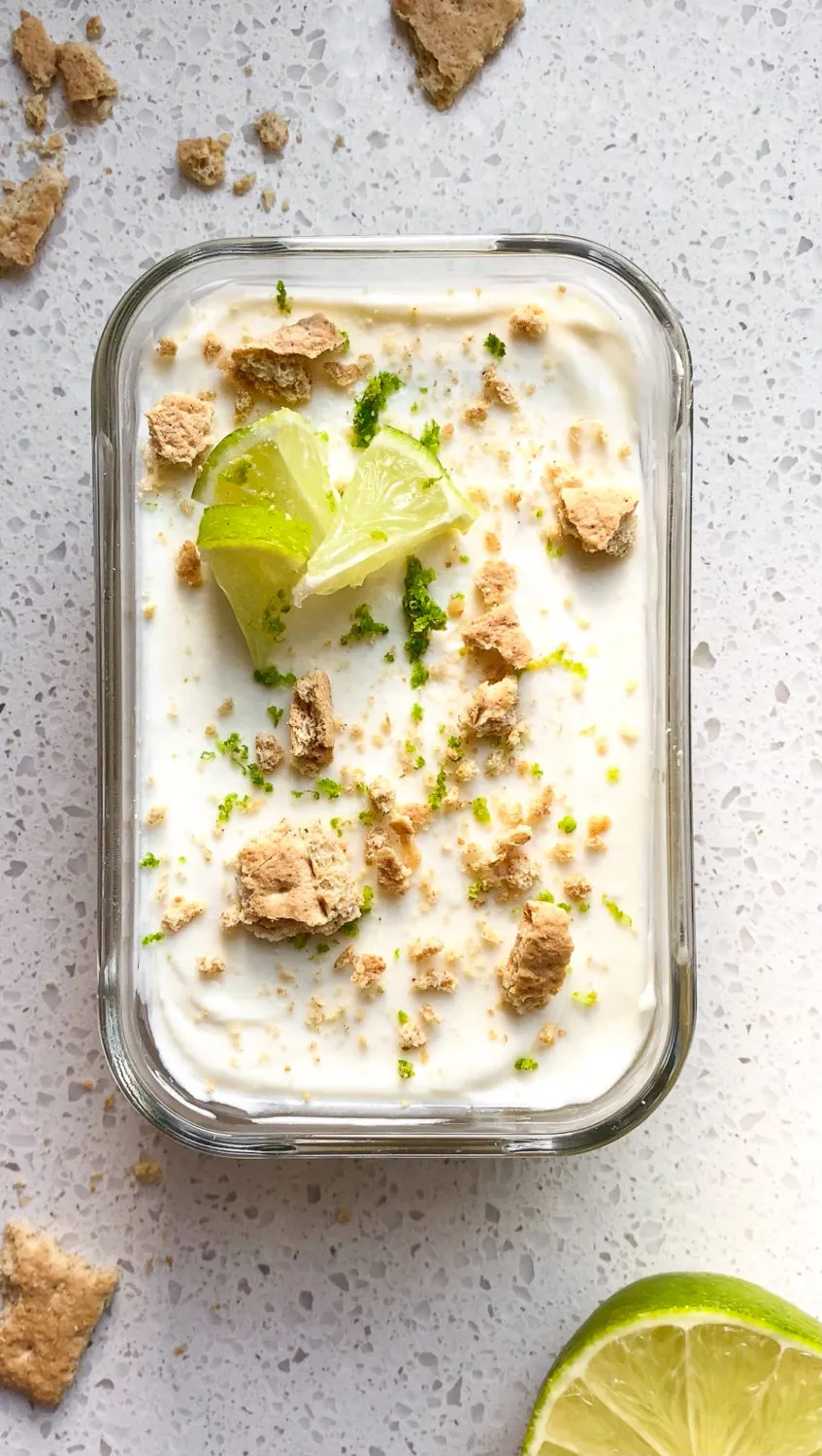 This amazingly easy recipe turns your favorite banana cream pie dessert into a healthy breakfast treat! Gluten free oats are combined with protein powder and plant-based milk, then layered with fresh banana and topped with a creamy white chocolate and Greek yogurt ganache.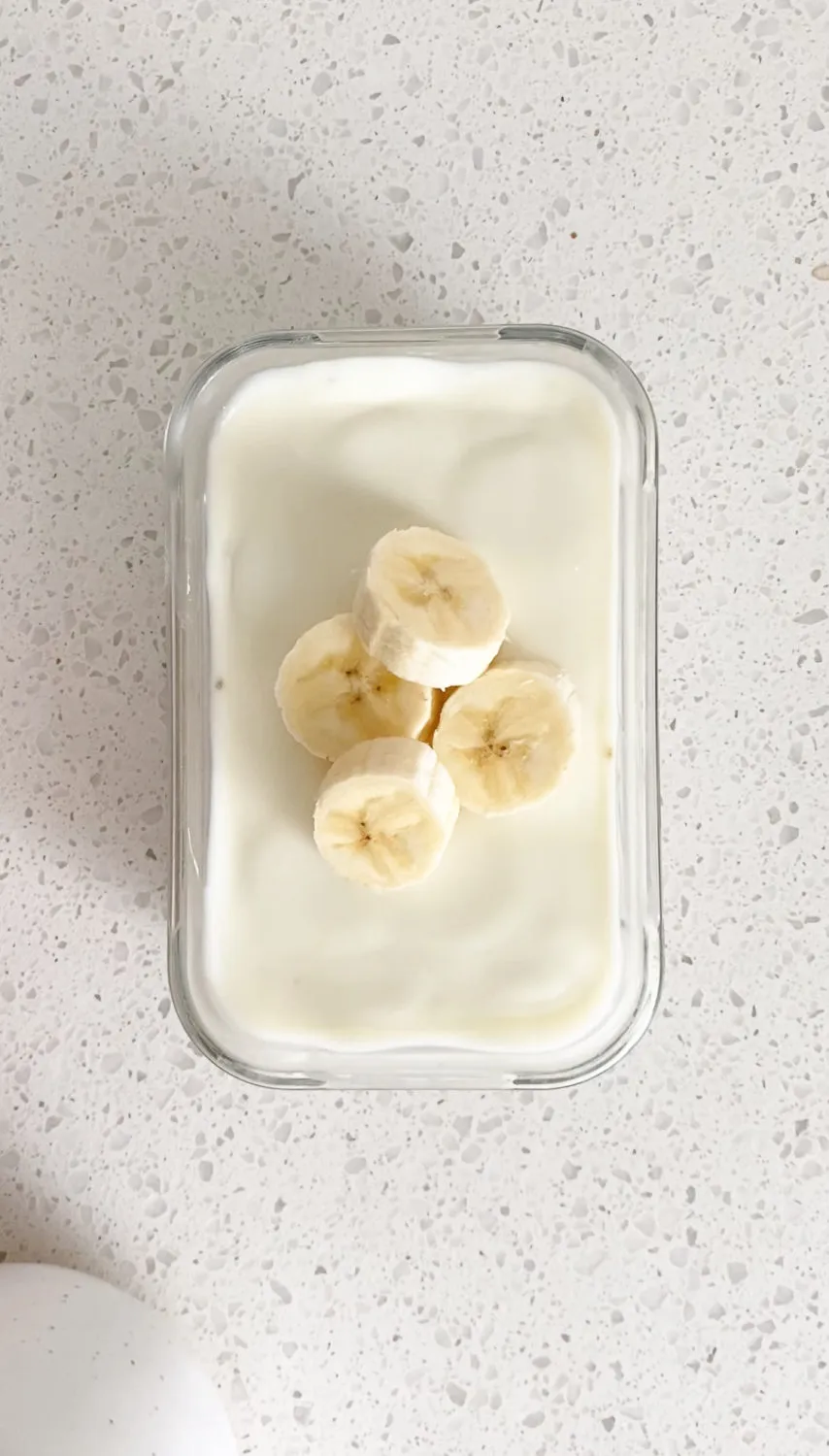 These High Protein Carrot Cake Overnight Oats are the best oatmeal recipe for lovers of dessert for breakfast! Enjoy all the delicious flavors of carrot cake while getting the health benefits of overnight proats at the same time.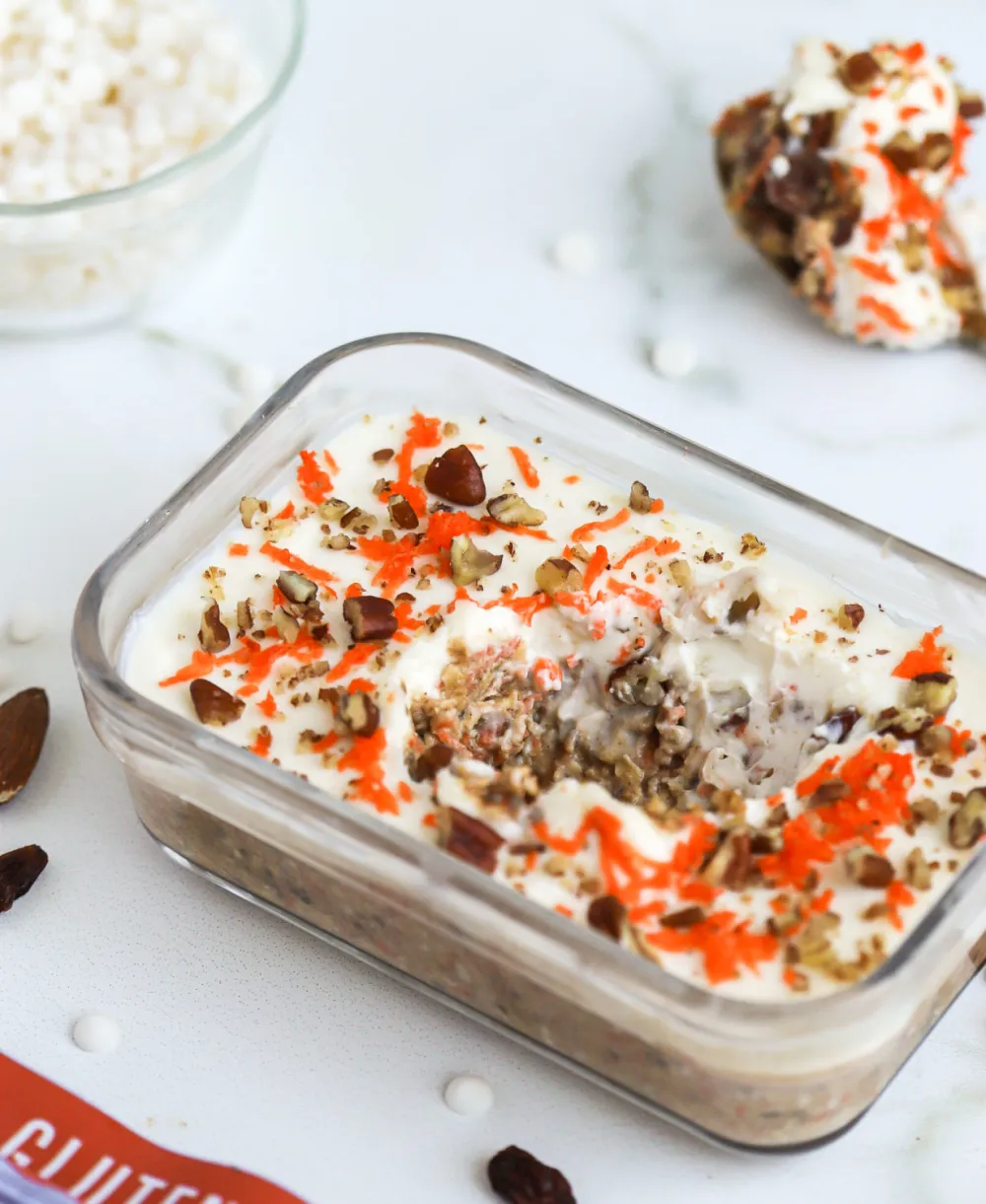 This gluten free, high protein, healthy overnight oats recipe is the perfect grab and go breakfast. Made with Greek yogurt, protein powder, chia seeds, and lemon juice, this actually be my new favourite overnight oatmeal flavour!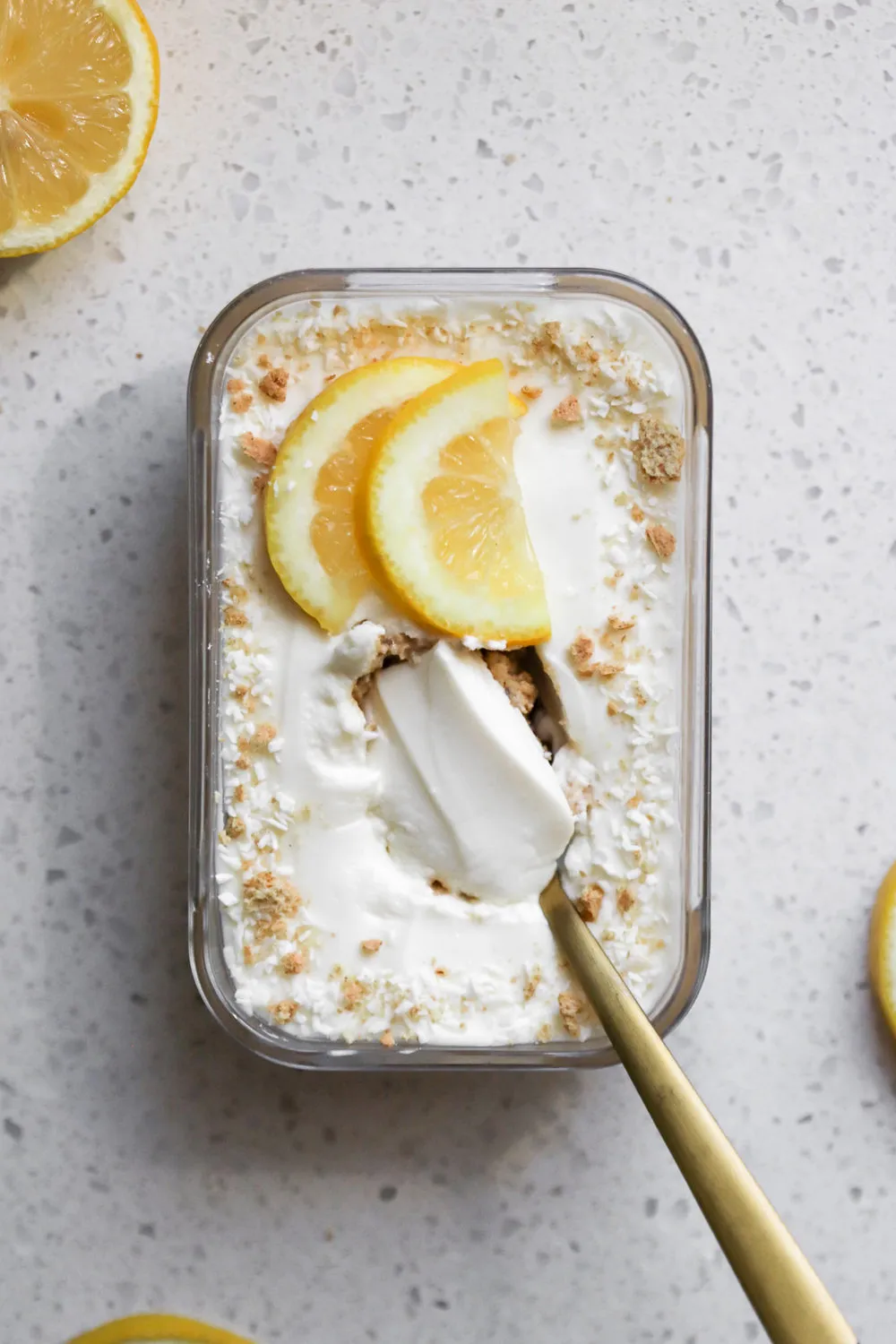 Coconut Overnight Oats
These coconut overnight oats are a healthy and protein packed breakfast recipe. They are gluten free, can easily be made vegan, and are so simple to make!
These easy Strawberry Cheesecake Protein Overnight Oats are the perfect way to start your morning! They contain simple ingredients like fresh juicy strawberries, gluten free graham crackers, and cream cheese to make this a healthy breakfast option.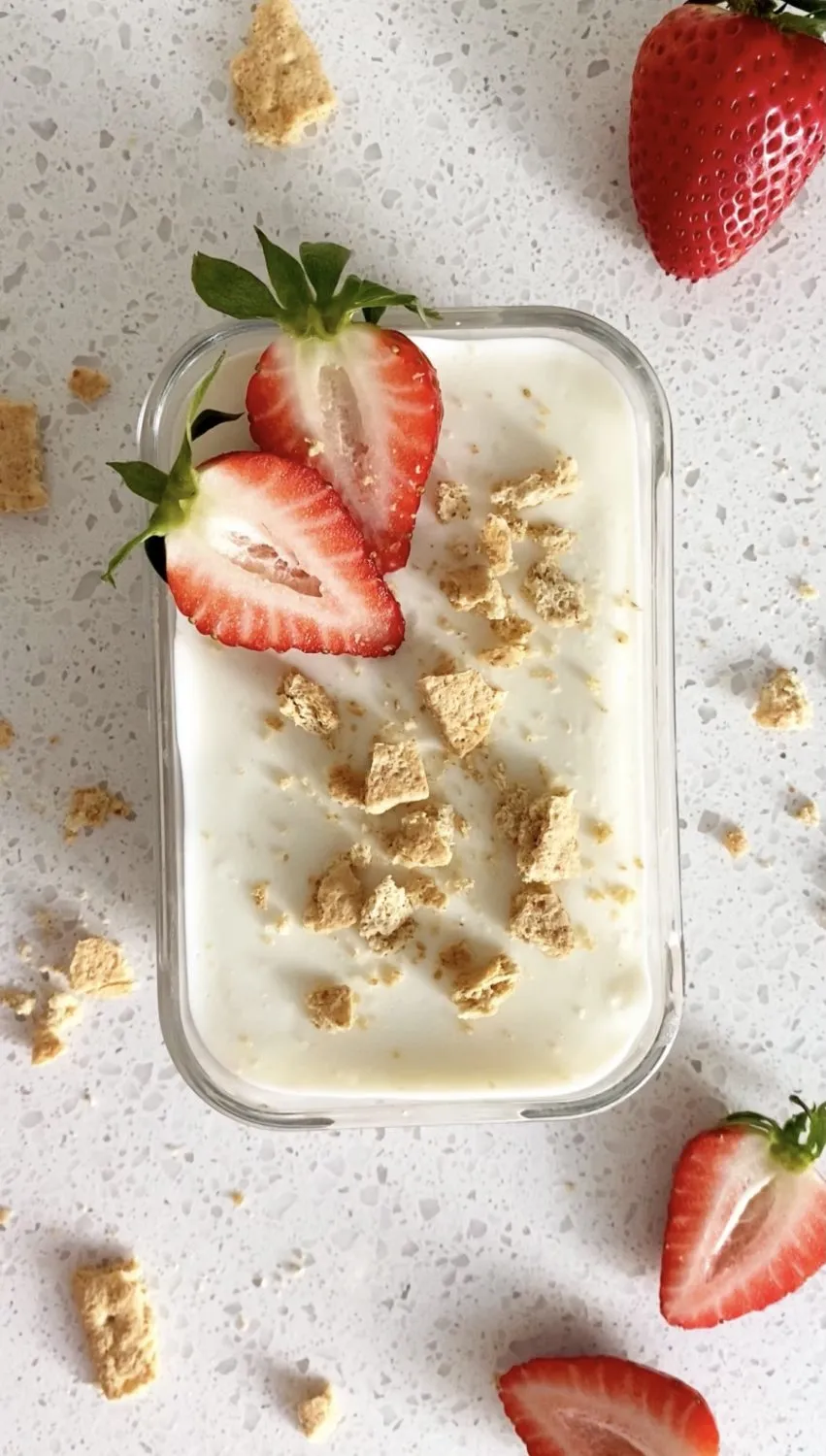 15 High Protein Overnight Oats Recipes (Different Flavors)
These 15 High Protein Overnight Oats Recipes are each the perfect easy breakfast recipe that double as a great source of protein. They are made in individual portions in a small container, glass jar, or airtight container and are a great addition to a busy morning routine.

IF YOU TRY THESE PROTEIN OVERNIGHT OATS RECIPES PLEASE LEAVE A COMMENT AND STAR REVIEW. I LOOK FORWARD TO SEEING YOUR CREATIONS! YOU CAN PIN THIS RECIPE ON PINTEREST OR SHARE ON INSTAGRAM BY TAGGING @basicswithbails and #basicswithbails
About Bailey
I love to bake, cook, exercise, and document all of the above. Nutrition is not low fat. It is not low calorie. It's not feeling deprived or being hungry all the time. It's nourishing your body with real, whole foods so that you are consistently satisfied and energized to live your life to the fullest! Read more…